Vitamin D Can Help Reduce Severity of Covid-19
Studies highlight that vitamin D influences our bodies response to coronavirus, and can help reduce the severity of Covid-19. Vitamin D supplements are recommended by health experts.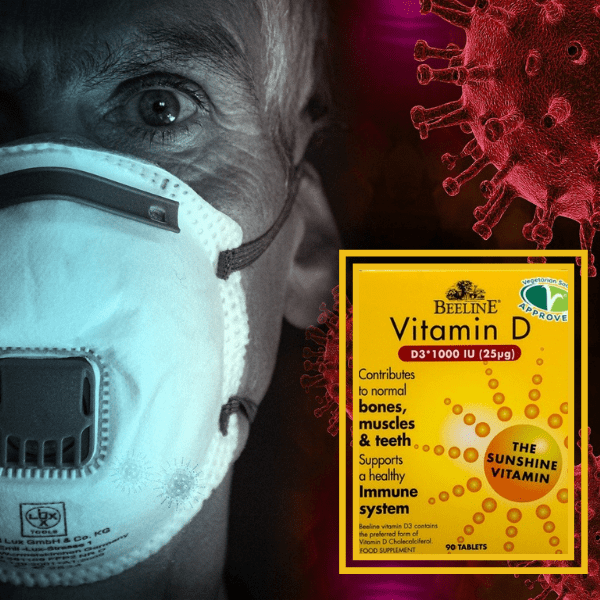 Speaking on RTE radio show, Today with Claire Byrne, Trinity College Dublin Professor Rose Anne Kenny states that recent studies prove that vitamin D assists our bodies to react to coronavirus and helps lessen the effects of covid-19. Studies show that death rates from coronavirus are reduced, when adequate levels of vitamin D are present. Professor Rose Anne Kenny, who is the Principal Investigator of The Irish LongituDinal study on Ageing (TILDA), recommends adding vitamin D supplements to our diets.
Vitamin D and the Immune System
One of the key benefits of vitamin D is that it supports a properly functioning immune system. Vitamin D positively influences our immune system response to both viral and bacterial infections. According to Professor Rose Anne Kenny, people with normal levels of vitamin D do not get respiratory infections as frequently. In order to fight the Covid-19 virus, it is important that our bodies have adequate levels of vitamin D.
T-Cells, B-Cells and Antibodies
Our bodies T-cells and B-cells help fight covid-19 and other infections. T-cells are a type of leukocyte white blood cell, which is an essential part of the immune system. B-cells, or B lymphocytes, are a type of white blood cell that helps us combat viruses and bacteria. This is done by developing proteins called antibodies that initiate an antibody response. T-cells stimulate B-cells to make antibodies. This helps kill cells in the body that have been infected by a foreign invader. Adequate levels of vitamin D are vital for the activation of T-cells, which help combat covid-19.
Vitamin D Deficiency
The definition of vitamin D deficiency is the body having inadequate levels of vitamin D. Low levels of vitamin D can compromise our immune response as well as causing symptoms including bone pain, muscle weakness, fatigue and a depressed mood.
The main source of vitamin D is from sunshine. Due to lower levels of sunshine and the impact of the different seasons on sunlight, people in Ireland generally do not get enough sunlight during periods of the year. While there are food sources such as fatty fish that contain vitamin D, it is difficult to ingest enough through diet. Therefore, a supplement is recommended to ensure adequate levels.
According to Professor Rose Anne Kenny, 60% of people aged over 50 years old in Ireland do not have adequate levels of vitamin D.
Adequate Vitamin D Levels
Vitamin D supplements should be taken every day to achieve adequate levels in the body. It is recommended that the average person needs 10 µg of vitamin D each day.
Covid-19 Vitamin D Supplements
The recent studies provide evidence that vitamin D supplements are an important tool in the fight against covid-19. Adequate levels of vitamin D can reduce the severity of covid-19 if you catch the virus, which leads to a reduction in death rates. Further studies are being conducted into whether vitamin D can help prevent us from catching coronavirus.
Health experts are recommending the use of vitamin D supplements for adults and children.
Today with Claire Byrne also discusses how government departments in the United Kingdom have supplied vitamin D supplements to categories of vulnerable people in both Scotland and Newcastle. The data suggests that this is contributing to lower mortality rates.
Our recent article discusses in detail about the benefits of vitamin D along with the sources and recommended levels of the sunshine vitamin.
There is a range of Beeline vitamin D supplements for adults, teenagers and children that will provide the recommended daily allowance. Beeline supplements are available in tablets, oral spray and effervescent tablets.
Vitamin D and Living with Covid Plan
Speaking in Dáil Eireann, TD Emer Higgins called on Minister Donnelly to act fast to recommend people start taking vitamin D. She stated that we must make vitamin D part of our Living with Covid Plan.