Beeline Healthcare
Beeline Healthcare Limited is an Irish owned manufacturing, sales, marketing and distribution company in the Healthcare Sector.
Beeline Healthcare is an Irish based company offering consumers a wide range of key vitamins to support general health and wellbeing. The Beeline Brand has become firmly established on a nation-wide basis with listings in all the leading multiple groups – Tesco, Dunnes Stores, Supervalu, Musgraves, Centra, Londis, Spar, Mace, Costcutters as well as many independent stores and leading pharmacy groups such as Boots, and many independent pharmacies.
Distinctive packaging with strong shelf appeal coupled with high quality products and value for money to the consumer has ensured that the market share of the Company has increased consistently. The company's facility is situated in Clondalkin providing excellent distribution access. A recruitment policy which includes the employment of technically qualified graduates in key production and R and D roles together with comprehensive staff training programme has produced a skilled, highly motivated and committed workforce.
The company is strongly committed to R&D and devotes in the order of 5% of turnover to new product development and is a key driver in the overall development of the company.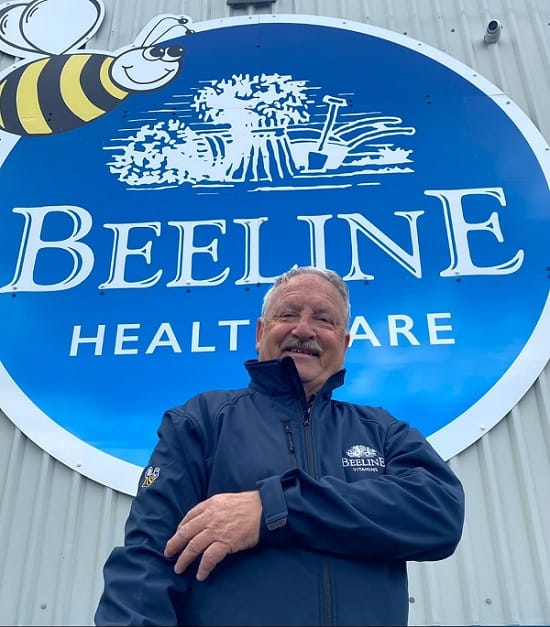 Founder and CEO
Gerry Finn is the founder and CEO of Beeline Healthcare. He set up the business in 1988 with Liz Taylor.
Gerry has considerable experience in the pharmaceutical and food manufacturing industries. Gerry has a B.Sc and Master's Degree M.Sc in Biochemistry, and also lectured in Food Science & Technology and Pharmaceutical Manufacturing.
Operating for over 30 years, Beeline Healthcare is offically Ireland's Number 1 vitamins and minerals brand in the Checkout Ireland Top 100 Brands 2022. This is the third year in a row that Beeline Healthcare are the top brand in the country.