Coronavirus and The Importance of Vitamin D
Trinity College Dublin scientists recommend the use of vitamin D during the Coronavirus pandemic.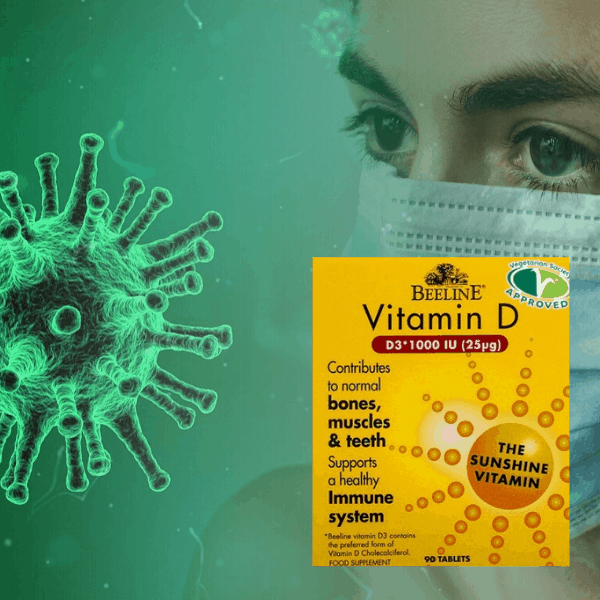 In the Irish Medical Journal, Trinity College Dublin scientists recommend the use of vitamin D supplements in helping to fight infection during the Coronavirus pandemic.
Scientists at Trinity College Dublin have recommended that the Government should immediately urge all adults as a matter of urgency to supplement their diet with Vitamin D during the Coronavirus epidemic.
What Causes Vitamin D Deficiency?
Vitamin D deficiency is common in Ireland and the United Kingdom. Vitamin D is widely known as the sunshine vitamin. This is due to the fact that the sun is the key source of Vitamin D. Vitamin D3 can be synthesised in the skin upon exposure to type B ultraviolet radiation from sunlight. In Ireland, vitamin D deficiency results from low levels of sunlight in Winter. While the widespread use of sunscreen in Summer helps protects against skin cancer, it also reduces a person's ability to produce Vitamin D.
Covid 19 Mortality Link to Vitamin D
Vitamin D deficiency may contribute to increased risk of respiratory infection including Covid 19. Evidence has been released linking Vitamin D levels and mortality from Covid 19. These research findings were produced by Dr Eamon Laird and Professor Rose Anne Kenny, who lead the Irish Longitudinal Study on Aging. They recommend that all older adults, hospital inpatients, nursing home residents, those with darker skin, vegetarians, vegans, those who are overweight or obese, smokers and healthcare workers be urgently supplemented with Vitamin D. This is to enhance their resistance to Covid 19. This advice can also be extended to the general adult population.
Vitamin D and Viral Infections
It is well known that Vitamin D plays a pivotal role in fighting viral infections. It can also support the immune system through a number of immune pathways involved in fighting Covid 19 the authors conclude in an article published in the Irish Medical Journal.
Vitamin D plays an important role for normal function of the immune system. It contributes nutrients for normal blood calcium levels for healthy bones, muscle function, teeth, nails and many other body functions.
Studies in the UK and Europe
Across Europe, health officials are urgently reviewing the potential of vitamin D to help fight against coronavirus.
In the United Kingdom, Public Health Scotland and NHS are analysing research to see whether vitamin D should be prescribed in hospitals and to high-risk groups. A professor of respiratory infection and immunity at Queen Mary University of London, Adrian Martineau, stated vitamin D helps "the body to handle viral respiratory infections" in an article published in The Guardian. "It boosts the ability of cells to kill and resist viruses and simultaneously dampens down harmful inflammation, which is one of the big problems with Covid-19."
In France, the National Institute for Health and Care Excellence (Nice) is also conducting a review of evidence on vitamin D in the context of Covid-19 with support from Public Health England (PHE).
Coronavirus in Ireland
Since the outset of the global pandemic, over 25,000 people in Ireland have been infected with COVID 19. At the time of writing, this has resulted in over 1,700 deaths. Luckily, nearly 23,000 people have recovered.
What is Coronavirus?
There are a number of coronaviruses. They are a type of virus. Examples include the Middle East Respiratory Syndrome (MERS) and Severe Acute Respiratory Syndrome (SARS). COVID-19 or SARS-CoV-2 is a new coronavirus first detected in Wuhan China in December 2019. It causes a respiratory illness.
Covid 19 Symptoms
Symptoms of Covid 19 can range from mild to severe. They can include fever, coughing, breathing difficulties, tiredness and a range of other less common symptoms. There is an incubation period thought to be up to 14 days before the onset of symptoms in an infected person.
This article references the Irish Medical Journal Vol 113; no 4: p58.
Airborne Coronavirus
The Covid-19 virus is primarily transmitted between people through respiratory droplets, contaminated surfaces and close contact with infected people. World Health Organization is also studying fresh evidence, which suggests that coronavirus may also be airborne.
With airborne transmission, the disease could be spread through microscopic particles that linger in the air. These microscopic droplets called aerosols. They are released when people exhale. The impact of this is that the virus could be floating for hours in tiny droplets in poorly ventilated spaces. This indicates that indoors, crowded places and poorly ventilated locations carry a higher risk of infection.  Where possible, it is important to wear protective masks, avoid large crowds and favour outdoor areas.
Beeline offer a range of Vitamin D supplements for adults, teenagers and children. The range covers tablets, oral spray and effervescent tablets.
These products include:
Vitamin D3 Tablets.
Beeline Vitamin D3 Oral Spray.
Vitamin D3, Calcium and Magnesium Effervescent Tablets.
Vitamin D3 Drops for Babies.
Toddler Vitamin D3 Drops.
Kids Vitamin D3 Chewable Tablets.
Teenager Vitamin D3 and Multivitamin Tablets.
Kids Vitamin D Drops.